We have just released version 2.3 of our API as a Beta with a whole host of new features that make integrating it into any PHP website much much easier. The download comes with extensive samples and documentation to help you get started.
Find out more...*
The OO version of the API has been designed according to accepted OO patterns and practices for PHP. All classes are "namespaced" (PHP style) under Mobi_Mtld_DA. i.e. The API class is called Mobi_Mtld_DA_Api.
A quick find-replace should be all that is needed to alter existing PHP code so that it will use the new API.
Old Function New Function
da_get_api_revision Mobi_Mtld_DA_Api::getApiRevision
da_get_properties Mobi_Mtld_DA_Api::getProperties
da_get_properties_as_typed Mobi_Mtld_DA_Api::getPropertiesAsTyped
da_get_property Mobi_Mtld_DA_Api::getProperty
da_get_property_as_boolean Mobi_Mtld_DA_Api::getPropertyAsBoolean
da_get_property_as_date Mobi_Mtld_DA_Api::getPropertyAsDate
da_get_property_as_integer Mobi_Mtld_DA_Api::getPropertyAsInteger
da_get_property_as_string Mobi_Mtld_DA_Api::getPropertyAsString
da_get_tree_from_file Mobi_Mtld_DA_Api::getTreeFromFile
da_get_tree_from_string Mobi_Mtld_DA_Api::getTreeFromString
da_get_tree_revision Mobi_Mtld_DA_Api::getTreeRevision
da_list_properties Mobi_Mtld_DA_Api::listProperties
The new API also uses PHP exceptions to catch common coding errors. More details about the exceptions and when they are thrown is available in the documentation.
DeviceAtlas is the world's most comprehensive database of mobile device information. The database comes with an API that developers can use to determine the capabilities of devices browsing their website and in so doing adapt their content to make it suitable for the userís context.
Part I of this tutorial will assist PHP developers in learning the basics of the API and how to use it.
Background
In order to provide relevant content to users on mobile devices content providers are forced to adapt their content to suit the capabilities of the user's device. In order to do this the content provider must analyse the request sent by the user to try and determine what device they are actually using.
All devices, when connecting to a content provider will send a number of headers with details about the web browser being used, the character encoding they support, the MIME types they can handle and more. Unfortunately the information provided in these headers is often incomplete, inconsistent or even modified by proxies along the way so that the content provider faces an ever more complex task determining what device is trying to access their content.
The most effective clue in determining a user's device is the "User Agent" header. The DeviceAtlas API uses this header to query its extensive database of devices and to give the content provider details about any capabilities or limitations of the user's device. The provider can then be sure they are delivering content that will be accessable and usable for that specific device.
Introduction
Part I of this tutorial will introduce developers to DeviceAtlas and the DeviceAtlas API. It will demonstrate how a PHP developer may use the API in delivering adapted content to their users.
DeviceAtlas simply provides the database of devices and functions to query this database with a "User Agent" string. Functionality such as caching the database and "sniffing" out the user agent string in unusual circumstances is left to the developer.
Part I of the tutorial will ignore these for now however Part II will focus on addressing those extra aspects of a DeviceAtlas implementation and make suggestions about how these tasks may be tackled.
Target
Any level of PHP developer comfortable with the basics of the language can use this tutorial. It is suggested that users be familiar with HTML and if possible XHTML-MP and CSS.
System Requirements
To complete the tutorial you will need a web server (local or remote) with a recent version of PHP installed. (Version 5.2.3 is a minimum requirement. The DeviceAtlas data is stored as a json file and older versions are unable to recurse deep enough to load the data). I am using Apache 2.2.4 with PHP 5.2.5 on Windows XP.
Using DeviceAtlas on older versions of PHP may be possible with some hacks however that is outside the scope of this tutorial, perhaps another day.
Time
Part I of the tutorial will take between 5 and 20 minutes depending on your level of competence with PHP. Advanced PHP developers will be able to skim over this tutorial and will most likely find the example code quite self-explanatory.
File Structure
Download the latest PHP version of the DeviceAtlas API (You will need to be logged in. Use your dev.mobi account or create one. It's free!).
DeviceAtlas API Downloads
Unzip the contents into the web root of your project. As is traditional for a beginnerís tutorial I have called the project Hello World so my directory structure looks like this:
Code:
<br /> * * * */helloworld <br /> * * * * * */doc <br /> * * * * * * * *(API Documentation...)<br /> * * * * * */sample<br /> * * * * * * * */json<br /> * * * * * * * * * *Sample.json <br /> * * * * * * * *index.php
	 * */Mobi
		/Mtld
		 * */DA
			/Exception
			 * *(Exception definitions)
Api.php
Test.php
doc contains the phpDoc for the API which is a useful reference for the functions offered by the API.
sample contains a basic sample of the API in use and a developer version of the json database (Identical structure to the live data but may not be up to date.) The sample contains some more advanced functionality covered in Part II of the tutorial.
The two files in /Mobi/Mtld/DA are Api.php the source code of the API and Test.php a command-line script for testing the json database.
To get started I also created a file called index.php in the root and created a folder called json where I have placed a copy of DeviceAtlas.json (the latest data downloaded from the website)so the project directory now looks like this:
Code:
<br /> * * * */helloworld <br /> * * * * * */doc <br /> * * * * * * * *<i>(API Documentation files...)</i><br /> * * * * * */sample<br /> * * * * * * * *<i>(Sample files...)</i><br /> * * * * * */json<br /> * * * * * * * *DeviceAtlas.json <br />	 * */Mobi
		/Mtld
		 * */DA
			/Exception
			 * *(Exception definitions)
			Api.php
			Test.php
** * * * * *<b>index.php*
</b>
You can set the directory structure out however you like, the important files we need are index.php, DeviceAtlas.json and the folder Mobi and its contents.
index.php will form the root of the project which will include API functions from Api.php and load the device database from DeviceAtlas.json.
Tutorial
STEP 1
We begin by editing index.php. All we want for now is a basic html page that says "Hello World". Insert the following lines.:
Code:
<?php
header ("Cache-Control: max-age=200 ");
header ("Content-Type: application/xhtml+xml");
echo '<?xml version="1.0" encoding="utf-8"?>';
?>
<!DOCTYPE html PUBLIC "-//WAPFORUM//DTD XHTML Mobile 1.2//EN"
** *"http://www.openmobilealliance.org/tech/DTD/xhtml-mobile12.dtd">
<html xmlns="http://www.w3.org/1999/xhtml" >
<head>
** *<title>Hello Mobile World</title>
</head>
<body>
** *<p>Hello Mobile World!</p>
</body>
</html>
A very basic XHTML-MP page that simply sets the page title and displays the text "Hello World". I have uploaded the project to the web and tested it on ready.mobi. In the Nokia N70 Emulator the page looks like this: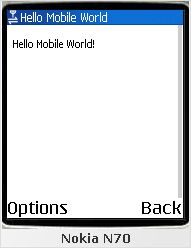 STEP 2
Not a very inspiring page so far and one that certainly won't need any changes for different screen sizes or device capabilities. But let's throw in a picture logo, some links and some styling to jazz it up a bit. The code now looks like this:
Code:
<?php
header ("Cache-Control: max-age=200 ");
header ("Content-Type: application/xhtml+xml ");
echo '<?xml version="1.0" encoding="utf-8"?>';
?>
<!DOCTYPE html PUBLIC "-//WAPFORUM//DTD XHTML Mobile 1.2//EN"*
** *"http://www.openmobilealliance.org/tech/DTD/xhtml-mobile12.dtd">
<html xmlns="http://www.w3.org/1999/xhtml" >
<head>
** *<title>Hello Mobile World</title>
** *<style type="text/css">
** * * *h1 { background-color: #000000; color: #ffffff;}
** *	li { list-style: none;}
** *</style>
</head>
<body>
** *<p><img id="logo" src="img/logo_128x57.png" alt="dotMobi Logo" width="128" height="57"/></p>
** *<hr />
** *<h1>Hello Mobile World!</h1>
** *<ul>
** * * *<li><a href="index.php?page=1" accesskey="1">(1) Link 1</a></li>
** * * *<li><a href="index.php?page=2" accesskey="2">(2) Link 2</a></li>
** * * *<li><a href="index.php?page=3" accesskey="3">(3) Link 3</a></li>
** *</ul>
** *<p>Lorem ipsum dolor sit amet, consectetuer adipiscing elit.*
** *In euismod mi a urna. In ultrices turpis vitae nibh.</p>
** *<p>Sed sed ipsum id dolor nonummy dignissim. Nulla mi ante,*
** *placerat nec, vestibulum sed, fringilla at, velit.</p>
** *<p>Nulla nonummy purus sed nisl. Mauris tincidunt urna sit amet dui.*
** *Cras sem justo, mollis et, tincidunt a, pellentesque eget, quam.*
** *Vestibulum quis velit et erat dictum ultrices.*
** *Praesent fermentum arcu nec sapien. Nunc eleifend.</p>
</body>
</html>